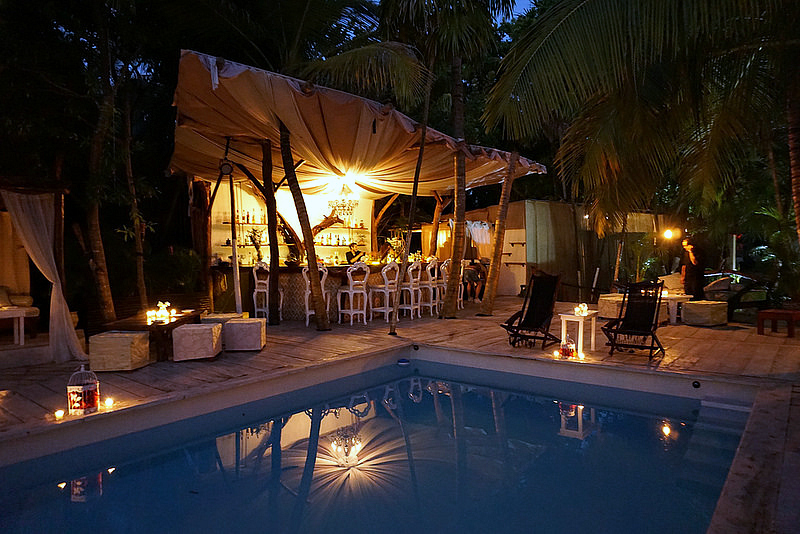 5 Best Restaurants in Tulum, Mexico
On a quest for the best Tulum restaurants…
It's the early evening and the sun has just gone down. I've taken off my shoes and tucked my feet up underneath me on a glamorous outdoor lounger. It looks a little like a bed, since it is piled with pillows and draped in jungle vines.
All around me are tables and loungers lit by dancing candlelight. When the waiter comes, he brings menus, drink suggestions, stories about the chef's passionate love of fishing, and tiny spray bottles of organic mosquito repellant to keep the hungry little bugs in the jungle all around us at bay as much as possible (which is, to be honest, never quite 100%).
I am, in other words, eating out in Tulum, Mexico – former fishing village now playground of wealthy yogis and similarly glamorous, mystically inclined people.
The reason I'm eating out in Mexico is that I've been hired to co-author a travel guidebook with one of the big guide companies. In just a month, I have to see as many sights, visit as many shops, stroll along as many beaches, and eat out in as many restaurants as I can. I'm responsible for finding the best, recommending we skip over the worst, and reviewing everything with an eye to detail.
What this means for me is a lot of meals out. Sometimes more than one per mealtime. I try at least two bites of every dish, even if I have two more back-to-back meals to get to. I usually order at least a couple things off each portion of the menu—appetizers, dinner, dessert.
What it means for the guide—and for you now—is that by the time I'm done, I know the Tulum food scene pretty well. Based on all that research, here are some of my favorite places to eat.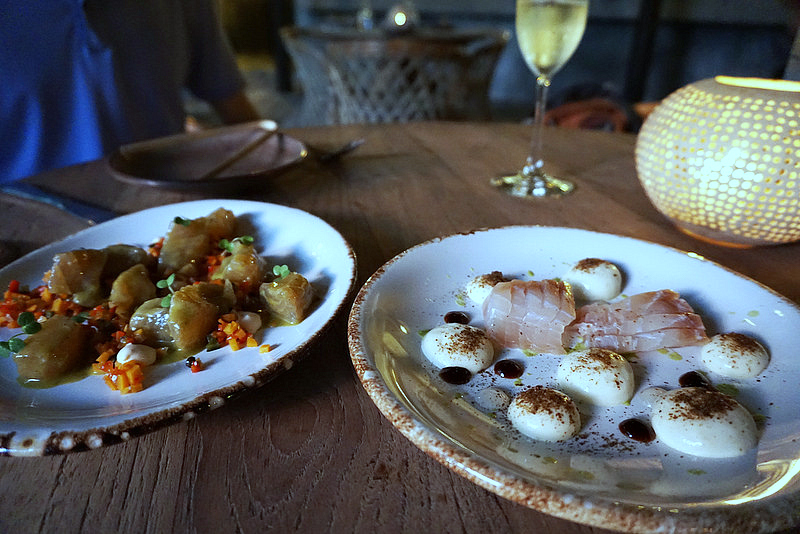 Ocumare
Run by a Michelin-starred chef, this hotel restaurant is tucked away at the very end of Tulum's jungle road. The décor blends seamlessly into the environment—a mix of jungle and beach. The dining room is a wooden platform under a palapa rooftop. The tables are simple wood. The chairs woven reeds. And the food is decidedly gastronomic, with plates dabbed in rice foam and dusted in seaweed, pork crisped at the table with a blowtorch, and classics deconstructed in a new way.
Order the pork belly and Sushi Ingredients (deconstructed sushi), and don't skip dessert. The chocolate cream was transcendent. Prices are on par with the rest of the beachfront restaurants, so you don't even have to splurge in order to have the best food in Tulum.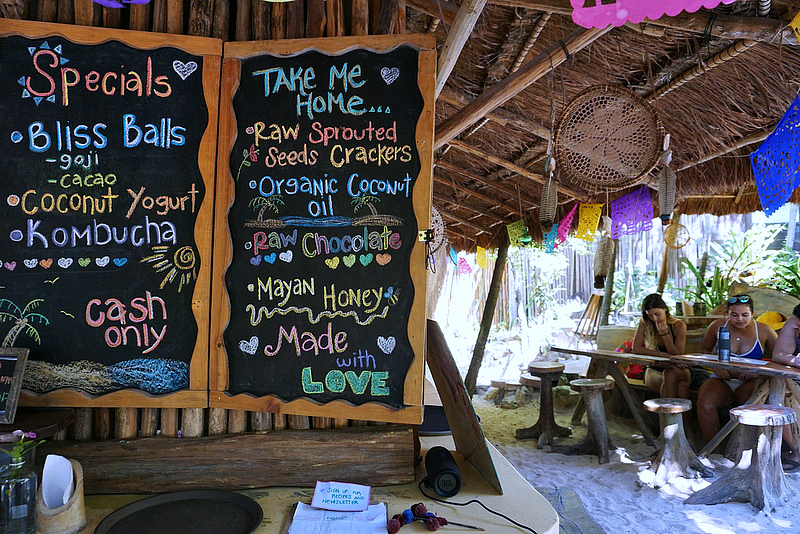 Eden Tulum
The sexy jungle scene I described in the opening of this piece? That's Eden Tulum – a newer restaurant on the jungle side of Tulum's beachfront road.
Designed around a pool (which I'm told gets a lot of use once the drinks start flowing later in the evening), the restaurant is a collection of beds, loungers, and tables draped in gauzy fabric, lit by dancing candlelight, and surrounded by jungle. Late in the evening, music is likely. Early in the evening, you might just have the romantic restaurant to yourself.
The chef here is an artist – covering his plates beautifully in edible flowers – and so are the bartenders, whose mescal cocktails are intriguing and attractive. Locals recommend the Nest appetizer, chicken morceaux, and chocolate decadence with chocolate jalapeño ice cream and I have to heartily agree. There's not a single thing I would change about any of those dishes.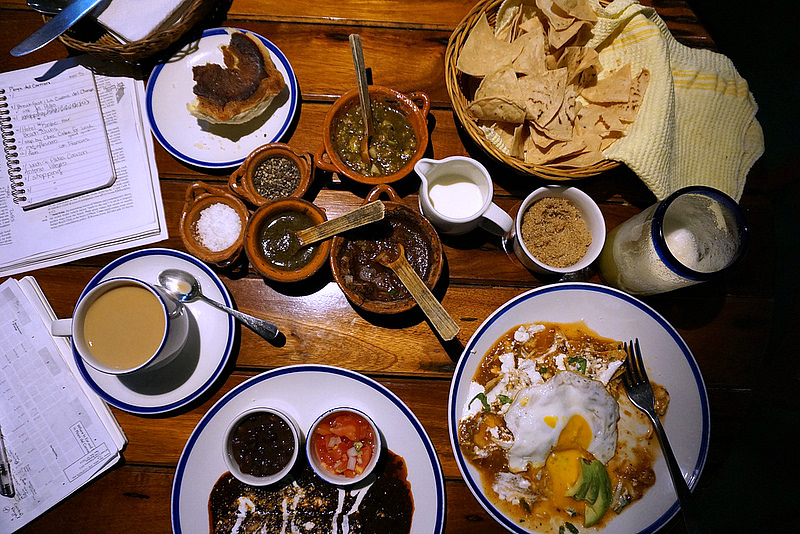 Cenzontle, Jardin Secreto
Another jungle restaurant worth reserving a table at, Cenzontle's only flaw is that it's hard to find – the entrance tucked back just far enough to miss it as you pass. But give yourself an extra couple minutes in case you pass it and have to loop around and you'll be glad you did.
Set up like a traditional dining room in the middle of the jungle, tables are planted in the sand and decorated with lamps and candles. The mood in the evening is romantic. The food is Mexican fusion and the beer is brewed in house (try the ale with ginger). Try the relleno negro shrimp tostada and the vanilla pork ribs.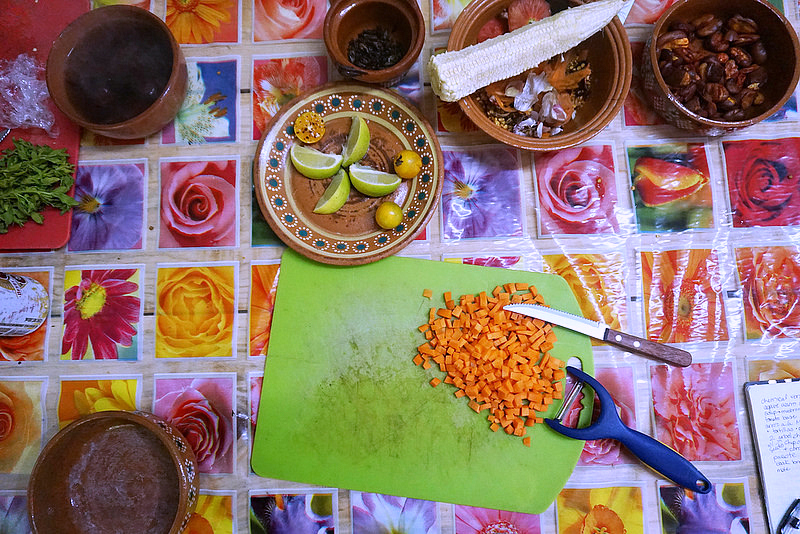 Rivera Kitchen Tulum
While not technically a restaurant, this cooking class tucked away in the jungle west of Tulum's pueblo serves up some of the best food in town. Even if you're not a cook, it's worth a visit.
I never thought I liked mole, but then I took this course. If you have to chop a few carrots
to get mole that good, it is worth it. The food here is less fancy than a jungle road restaurant, but the flavors are just as powerful as the heavy hitters above.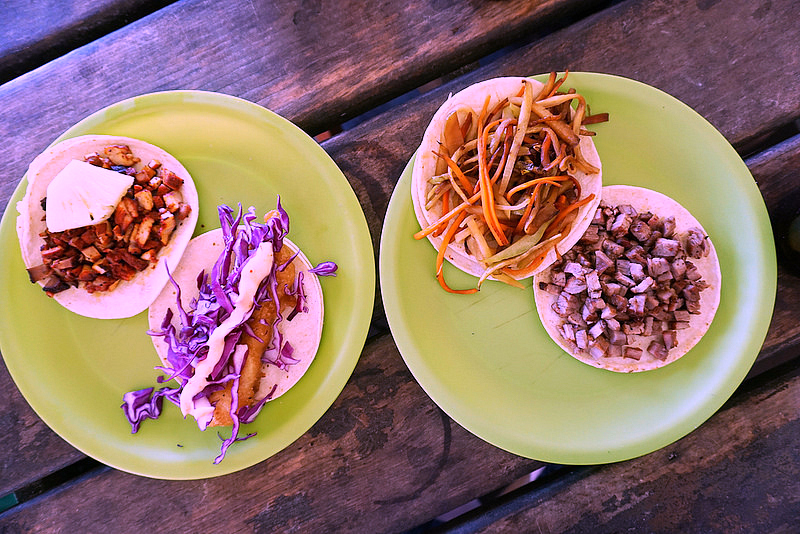 Taqueria Honorio
For days when you just want the super-cheap, super-flavorful tacos that a trip to Mexico promises, this no-frills stand in the center of the pueblo is the way to go. Sit yourself at a long table in a plastic chair and order up as many tacos as you can handle, accompanied by fruit juices.
They don't have a website, but the Google Maps listing will get you there. Expect to spend a couple bucks on your lunch.
Best Tulum Restaurants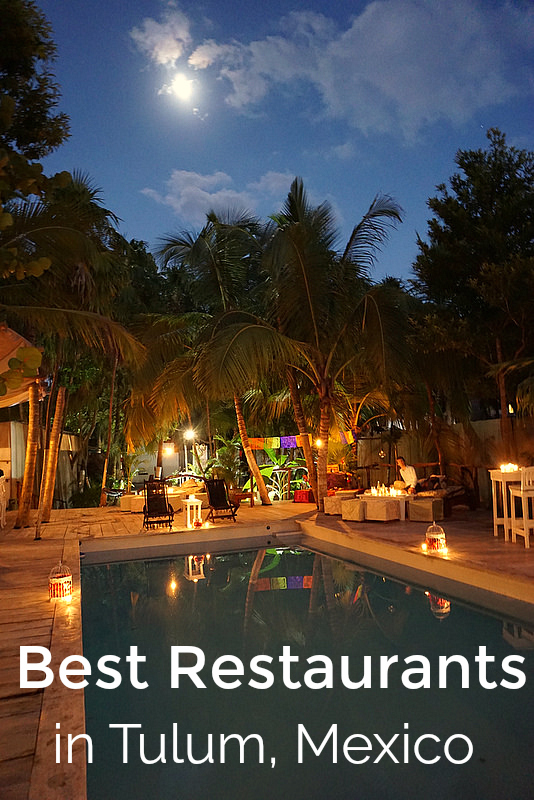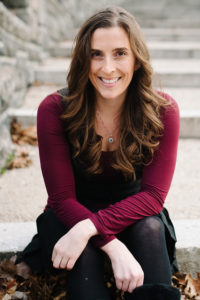 Gigi Griffis is a world-traveling entrepreneur and writer with a special love for all things European food. She's a pain in the butt to travel with because she'll make you go to every farmers market twice, but she's also pretty good at finding the best food a place has to offer. You can find her at viciousfoodie.com.